Mass Times
Dispensation from Sunday Mass obligation expires September 14th.

Saturday: 4:15 pm
Sunday: 8:00 am & 10:30 am
Daily Mass: Wednesday & Thursday: 6:30 am

Sacrament of Penance:
Saturday: 3:00 pm or by appointment
Novena For Life - Join Us!
---
Adoration and Benediction
In the midst of this uncertain and often chaotic world, our Lord is inviting each one of us to spend some quiet time with Him in the Most Blessed Sacrament, Wednesdays, 7am-6pm, in the Church. Stop in for just a few minutes, or stay and pray as long as you'd like! No sign up is required, but if you're interested in committing to a regular hour, or would like to be placed on a substitute list, please contact Kim at 262-914-4295.
---
---
Bring Breaking Bread Missal Home With You
In an effort to keep our faith community safe and healthy, we're inviting parishioners to order their own personal copies of Breaking Bread 2021 for use at home or in the church. Please join us for each celebration and continue to actively participate in the liturgy. Available for $10 and can be purchased by calling the parish office at 262-652-2771.
---
Archbishop Listecki
Our joyful obligation of Sunday Mass: In this new video, Archbishop Listecki reflects on and gives an update regarding the dispensation from the obligation of Sunday Mass which ends on September 14, 2020.
Click Here for Dispensation Message
---
"We become sons and daughters of the same God when we share one bread, and hopefully soon, one cup."
Click on the picture to view: See You at Mass Video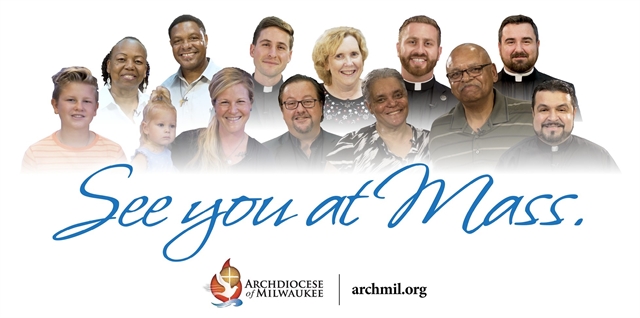 ---
Effective August 1st
Please be advised, due to Governor Evers new order, face coverings will now be required at Holy Masses at Holy Rosary Parish. Click on the link below to review this order in detail.
---
Staff (click on name for contact information)
Director of Religious Education & Youth Ministry

Director of Liturgical Music

Maintenance Supervisor

Administrative Assistant
Kenosha Catholic Schools
Holy Rosary Church is proud to support two great Kenosha Catholic Schools:
All Saints Catholic School
St. Joseph Catholic Academy
---